A Comprehensive Destruction Warlock Guide for Shadowlands 9.2.7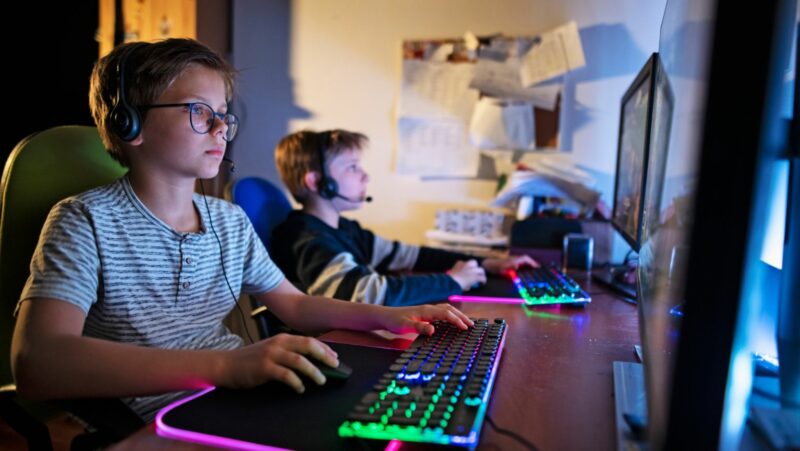 Check out this guide for a comprehensive look at Destruction Warlock in Shadowlands 9.2.7!
Destruction Warlocks in Shadowlands: Strengths and Weaknesses
Destruction Warlocks are ranged spellcasters who use strong fire-based spells to burn down their foes. While Destruction Warlocks may call a number of demons to aid them in combat, the bulk of their strength comes from the destructive qualities of the flame itself. As a result, they have access to a number of special powers that make them dangerous opponents.
Destruction Warlocks have great damage output and can quickly plow through their opponents with torrents of fire and darkness. When it comes to vulnerabilities, they lack mobility and are quickly overpowered by several targets if not well controlled. Destruction Warlocks are also particularly sensitive to magical defenses and resistances owing to the nature of their abilities. When employed correctly, however, these flaws become less obvious as players acquire expertise with this speciality.
How to gear a Destruction Warlock
It might be difficult to gear a Destruction Warlock in World of Warcraft: Shadowlands. We've put up a complete guide on equipping a Destruction Warlock to help you get started. This article will go over the optimal stats for various class builds as well as how to get them through gear upgrades, enchantments, and gems. It will also describe the ideal builds for increasing your damage output as a Destruction Warlock in both PvE and PvP scenarios. Finally, we'll go over the most crucial consumables to employ with this setup.
With the knowledge in this tutorial, you should have everything you need to start tuning your Destruction Warlock's gear for maximum performance.
Destruction Warlock stat priority
Destruction Warlock stat priority in Shadowlands The following statistics are highlighted in 9.2.7:
Primary stat
Intellect
Critical Strike
Haste
Mastery
Versatility
Avoidance
As a Destruction Warlock, intelligence should always be your main stat since it enhances spell damage, spell critical strike probability, and maximum mana pool. Crit increases your chances of obtaining a double dot, while Haste shortens your cast time and lets you to do more damage in less time. Mastery is ideal for single target engagements since it extends the duration of Immolate and enhances your chances of increasing your dot uptime. Versatility is also useful for increasing total damage done and received, although it may be overlooked if other attributes are more significant. Finally, Avoidance aids in the reduction of incoming physical harm.
Destruction Warlock Tier Set Bonus
The Destruction Warlock Tier Set Bonus is a four-piece bonus that increases your damage output, particularly while using Chaos Bolt. You receive a charge of Chaotic Inferno for each successful chaos bolt hit, which enhances the damage of your next Chaos Bolt by 8%25. This causes your combo point generator to fast ramp up, enabling you to quickly rack up combo points and unleash Havoc more often than normal.
Additionally, for every successful Chaos Bolt, this set bonus decreases the cooldown of Conflagrate by 1 second, letting you to keep constant damage output and pressure on your adversaries. It also enhances Shadowburn's crit rate and damage by 10%25, offering you another weapon in your arsenal for maximizing burst or sustaining consistent sustained DPS on numerous targets.
Raid Best in Slot (BiS) Gear for Destruction Warlocks
Raid Best in Slot (BiS) Gear for Destruction Warlocks is an important part of raiding since it helps you to optimize your damage output and survivability by having the best gear and stats. The helm and cape are the two key pieces of equipment, and they should be tuned for both Spirit Affinity and Fire Ship.
You'll also need to improve numerous fundamental stats such as Intellect, Haste, Mastery, and Versatility.
There are a few potent trinkets for Destruction Warlocks in Shadowlands Raids based on the sort of content you are doing:
Hakkar's Seduction is a strong alternative for more single-target focused fights when extra haste isn't required thanks to its high secondary stat budget and on-use effect that allows your next Shadow Bolt to inflict more damage.
Empyreal Ordnance is another wonderful choice for Mythic+ content or AoE heavy engagements where more haste is helpful, since it greatly boosts your haste while simultaneously improving your critical strike chance.

Mythic+ Best in Slot (BiS) Gear for Destruction Warlocks
Mythic+ Best in Slot (BiS) Destruction Gear Within the Shadowlands expansion, Warlocks is the optimum mix of armor, weapons, trinkets, and more to enhance your character's stats and abilities. As an Assassination Rogue in Shadowlands, you should seek to improve your Critical Strike rating so that you can do more damage with Darkness and Chaos Bolt.
When choosing Mythic+ gear, consider what sort of damage is acceptable for each fight. When piled too high, haste gear is amazing for burst damage, but it may also lead to overhealing. If at all feasible, use components with a combination of secondary stats, such as Haste/Mastery or Haste/Critical Strike. Look for trinkets that give additional passive stats like as enhanced main stat power or higher spell power while also providing extra cooldown reduction or on-use benefits during battles when they may be used most effectively.
Best in Slot (BiS) Trinkets for Destruction Warlocks
As a Destruction Warlock, you want to make sure that your gear and trinkets are doing the most damage possible. We'll go through the finest in slot BiS trinkets available to Assassination Rogues in the Shadowlands expansion in this portion of our thorough Destruction Warlock Guide for Shadowlands 9.2.7.
Ubbey's Instant Annihilation comes first. When this trinket procs, it enhances your critical strike chance by up to 15% and your haste by up to 20%. This trinket is very effective since it increases your burst capability, making it vital in raiding circumstances with many targets and multi-target sustained damage scenarios.
Eonar's Gift is next on the list. When used, this trinket enhances Mastery and significantly boosts overall damage done. It also stacks, so the more targets you confront, the more value you gain from this item.
Sacrolash's Tainted Caress is last on the list. When used, this trinket provides an automatic 10% boost in Critical Strike every 90 seconds and can be triggered by using any Chaos Bolt spell or direct damage spells like Rain of Fire or Living Bomb.
Overall, these BiS Trinkets will aid deliver a significant improvement in overall Damage Done, which may make or break your effectiveness as an Assassination Rogue.
How to level a Destruction Warlock. Destruction Warlock leveling tips
Destruction Warlocks are one of the most damaging classes in Shadowlands, and as such, they may level swiftly. When leveling as a Destruction Warlock, it is critical to use any and all available cooldowns, such as Life Tap and Doom.
As you level, you should prioritize damaging skills like Incinerate and Chaos Bolt while also making use of your pet's abilities whenever feasible. It is also critical that you make appropriate use of your class-specific abilities. For example, at level 20, don't forget to take up Soul Fire, which will give you an additional boost in damage output.
When grinding for experience or questing for reputation, always use Demonic Circle or Burning Rush; these two spells may be quite useful when attempting to go from point A to point B rapidly. Finally, don't overlook Life Tap It may seem little, but having enough mana restored may make all the difference in protracted combat or while moving from one location to another. Destruction Warlocks can level at breakneck speed with good strategy and resource management, making the beast mastery hunter easy to master.
Best Destruction Warlock Races
The greatest race for Destruction Warlocks in World of Warcraft: Shadowlands is determined on the sort of gameplay desired. Each race has distinct racial skills that may provide significant advantages to any Destruction Warlock.
Because of their formidable racial skills and heightened damage-dealing powers, the Orc is the greatest race for a Destruction Warlock in PvE content. Orcs have a 5% critical strike damage boost, as well as Axe Specialization, which improves the physical damage of Axes and Maces by 5%. Hardiness also offers Resistance to Stun effects, enabling you to withstand most crowd-controlling spells and stay in battles for longer.
It is advised that you choose one of the Alliance races, such as Night Elves or Humans, for PvP content. Night Elves get Wisp Spirit, which enables them to become invisible when not in battle, as well as 2% Nature Resistance and Quickness, which grants an extra 1% dodge chance. Humans are a less appealing option due to their lackluster racial bonus;, but The Human Spirit boosts spirit by 10%, giving them greater discretion in stat choosing.
Best Destruction Warlock Leveling Talents and Rotation in Shadowlands 9.2.7
When it comes to destruction warlocks in Shadowlands 9.2.7, the strongest talents for leveling are those that decrease spell cooldown, boost spell damage, and allow for better survivability. Dark Soul, Shadowburn, Cataclysm, Pyroclasm, and Backdraft are the most common skills for destruction warlocks at level 60.
A destruction warlock's rotation consists of casting Immolate, Cataclysm, and Shadowburn on huge groups of opponents, followed by Shadowburn to swiftly burn down single targets. To boost your chances of survival in fight, use Unstable Affliction, which offers you a shield and may be used again sooner with the Siphon Life skill. You should also utilize your Havoc ability to swiftly switch between targets while still doing damage with spells like Chaos Bolt and Incinerate.
Best Destruction Warlock End-game Talents
Destruction Warlocks are chaos and destruction spellcasters. Warlocks have a unique resource system in the form of Burning Embers, which feed their abilities and enable them to do maximum damage as rapidly as possible. They also have a diverse set of skills that can be used to boost their damage output.
This article examines the top Destruction Warlock end-game skills. You will discover numerous ideal configurations depending on the material you are playing. A raid layout, for example, differs from Mythic+ dungeons or PvP situations. In general, though, some Talent selections will always remain similar regardless of content genre. Some prominent possibilities are Dark Soul: Instability, Shadowburn, Fire and Brimstone, Cataclysm, and Channel Demonfire, which we cover in length below. With all of these tools at your disposal, you should be able to inflict some significant damage with your Warlock in any circumstance.
Best Talents for Mythic Raiding in Season 4 (patch 9.2.7)
The greatest Mythic Raiding skills in Season 4 patch 9.2.7 are determined by your current gear level, battle length, and raid composition. The Destruction Warlock spec does have certain unique spells and abilities that make it an appealing choice for certain situations.
When contemplating a Destruction Warlock build for raids, we suggest concentrating on talent row choices that provide access to Havoc for its tremendous single target cleave potential or Dark Soul: Instability for its high burst potential.
Power Trip
Grimoire of Sacrifices
Mana Tap
All of these talents provide strong usefulness in a variety of raid settings, as well as significant damage improvements over other alternatives. Finally, since it relies on Immolate being active on the target at all times, Firestone is a little more situational alternative.
Best Talents for Mythic+ Dungeons in Season 4 (patch 9.2.7)
The Brewmaster Monk skill is an excellent pick for Destruction Warlocks aiming to optimize their Mythic+ dungeon runs in patch 9.2.7. This ability grants a shield that absorbs 25% of incoming damage when active, as well as immunity to crowd control and disables. It's also quite adaptable, since it may be employed defensively to defend party members or offensively to set up strong combos and finishes.
When selecting talents for Mythic+ runs, choose those that will enable you to go through the dungeon with least downtime and maximum effectiveness. The Brewmaster Monk skill is one of the better options for this reason, providing a consistent supply of damage mitigation while enabling you to concentrate on the job at hand without fear of being stunned or CC'd suddenly.
Best Covenant – Soulbinds – and Conduits for Destro Warlocks in 9.2.7
Covenant is an essential option for every player since it is a long-term commitment with tremendous perks. The Kyrian Covenant provides the finest mix of damage output, soulbinds, and conduits for Destruction Warlocks. When utilized appropriately, their trademark ability Phial of Serenity may deliver a massive increase in DPS, while various potent soulbinds can improve your total damage capabilities.
The Kyrian summon Steward will also boost your quality of life by offering meals for rested XP gain or access to amenities such as the Auction House or bank. Furthermore, conduits from the Kyrian Covenant are often simpler to get than those from the Necrolord or Venthyr Covenants. This makes it simpler to personalize your character and gives you more options for which talents to concentrate on developing. Finally, the Destruction Warlock will most certainly gain from Kyrian Covenant owing to its mix of powerful damage improvements and ease of use.
Best Destruction Warlock Covenant for Raiding
The East and West Sea Shellos are two subspecies of the same species. They are both little, slug-like animals that live on Sinnoh's West and East coastlines' beaches and shallow seas. The primary distinction between them is color, with East Sea Shellos being pink and West Sea Shellos being blue.
Because of its powerful single target burst damage capabilities, East and West Sea Shellos are both good alternatives for Destruction Warlocks aiming to succeed in raid play. It truly comes down to personal opinion as a Covenant option for raiding Destruction Warlocks – both have their strengths, flaws, and benefits over one another. It is ultimately up to you to choose which Covenant is best suited to your playstyle and gear level.
Best Destruction Warlock Covenants for Mythic+
Kyrian is the finest Destruction Warlock Covenant for Mythic+ and end-game raiding. The advantages of having access to a powerful class-specific Covenant skill like Summon Vilefiend, paired with the high damage, are important reasons why Kyrian is now regarded as optimum.
Kyrian's unique soulbind benefits improve the damage done by Destruction Warlocks, offering even more reasons to choose Kyrian as the best covenant for Mythic+ content. Summon Vilefiend Kyrian stands out as the beast mastery hunters good covenant for Warlocks due to its hallmark ability, enabling them to summon an additional buddy to help with burn phases and taking down difficult monsters. Finding a covenant that fits well with your class is critical for success in Shadowlands for both end-game raiders and Mythic+ aficionados.best option for Destruction Warlocks.
Destruction Warlock Covenant Popularity
Destruction Warlock Covenant Popularity is a guide of the most popular Covenants for Destruction Warlocks. Since the beginning of Shadowlands, Kyrian and Necrolord have been the most popular choices, with many players selecting their devastating skills such as Pact of Execution or Shear.
Furthermore, some recent adjustments have changed the popularity of Covenants even further in favor of Kyrian, making them a more appealing alternative than ever before. However, Necrolord has a place in the game as well, owing to outstanding abilities like Summon Conflagration and Fire Storm.
Finally, Venthyr is still a viable option for those seeking for increased movement speed or burst dps with sinstone and Hysteria damage bonuses. Finally, your choice should be based on what precise mix of skills works best for your playstyle and objectives.
Best Destruction Warlock Legendaries – Shadowlands 9.2.7
Destruction Warlocks deliver a lot of damage in World of Warcraft: Shadowlands. As the expansion's release date approaches, Destruction Warlocks must comprehend the greatest legendaries for their class and build.
Legendaries are strong items that provide additional stats, abilities, and boosts to your character's fighting effectiveness. There are several legendaries accessible in Shadowlands, but some are more important than others. This article will break down the greatest Destruction Warlock legendaries as of Patch 9.2.7, including all the details so you can make an educated selection when purchasing your new gear. Choose the best legendary for your build and attempt to optimize your total damage output.
Best Single Legendaries for Destruction Warlocks (Raid and M+ Dungeons)
When raiding and Mythic+ dungeons as a Destruction Warlock, the ideal Legendaries to use are ones that boost damage consistently regardless of how difficult the content is. Soul Rot, Mana Burners, and Demon Skin are a few examples.
Soul Rot grants your Chaos Bolt spells an extra 30% chance to apply Soul Rot to the target and boost the damage by 15%, significantly increasing the total burst damage.
Mana Burners and Demon Skin, the other two legendaries, each boost the damage of your Immolate ability by 10%.
Having all three of these Legendaries equipped may significantly boost your Destruction Warlock's firepower in more challenging content. West Sea Shellos may also be obtained via solo farming on Nazjatar island.
Best Double Legendaries for Destruction Warlocks (Raid and M+ Dungeons)
Sableye is a powerful and dependable double legendary for Destruction Warlocks in raids and Mythic+ dungeons. Sableye as your second legendary has two primary benefits: it enhances your Spell Damage by 10% and reduces the amount of damage you receive from all sources by 15%. This makes it a very great option for tanking high physical damage bouts that need you to remain alive for an extended period of time.
Furthermore, due to its vulnerability to Fairy-type attacks, it is critical to match this with another legendary that enhances your resistance or tolerance to them, such as Virtue's Grasp. Having both legendaries equipped will help you to effortlessly survive these confrontations while still reaping the benefits of Sableye's other fantastic perks.
Best Legendary Crafting for Destruction Warlock
The most recent update for the World of Warcraft Shadowlands expansion, Shadowlands 9.2.7, includes a slew of adjustments and enhancements to the Destruction Warlock class. This thorough tutorial will teach you all you need to know to become a successful Destruction Warlock in Shadowlands.
This guide will assist you in determining which skills are ideal for each circumstance, allowing you to make an educated choice while playing your Destruction Warlock in Shadowlands 9.2.7. We'll also go over the many Legendary items available to Destruction Warlocks and how they may assist boost your damage output. Finally, we'll go over Azerite traits and corruption effects that you may employ to boost your performance in both PvE and PvP content.
Destruction Warlock in Shadowlands – FAQ
Destruction Warlocks are effective AoE casters in Shadowlands 9.2.7 and later. They employ a mix of Fire and Shadow spells to deliver massive damage across broad regions, and they may call creatures to help them in battle. This guide covers the fundamentals of Destruction Warlock mechanics, rotation, talent setups, and other important information for players looking to master this specialty.
From leveling up and stat priority to damage optimization and raid talent setups This book will cover everything you need to know about Destruction Warlocks, including which spells are best for each situation, the gear needed for optimal performance, the right enchants to use, and much more. With this tutorial, beast mastery hunters best will be able to take their Destruction Warlock game to the next level in Shadowlands.
1. Are Destruction Warlocks good in Shadowlands 9.2.7?
Destruction Warlocks are strong and flexible damage providers in Shadowlands 9.2.7, and they have maintained their supremacy throughout the game's lifespan. Their damaging skills remain unequaled among all other specialities, having one of the strongest burst damage playstyles and equally outstanding sustained damage capabilities.
They also have access to some of the rare mechanisms that bring special value to their class and distinguish them from the crowd, such as Rain of Fire or Bane of Havoc. They may provide raid-wide AoE damage with spells like Cataclysm or modifications like Demonic Strength, in addition to sustained multi-target damage or single target burst damage.
Furthermore, depending on the type of play you want, many talent builds provide a great lot of adaptability:
2. Is Destruction Warlock easy to play?
Destruction Warlock is a class that is relatively tough to master. Although it becomes simpler as you learn the spec and get more accustomed with the mechanics, reaching the skill level required for high-level content requires a large time commitment. It's also vital to understand how Destruction Warlocks interact with various sorts of opponents, such as Skuntank, who is vulnerable to ground strikes.
You will need to understand how to utilize your immolation aura efficiently, how timing works with your skill rotation and cooldowns, and when to back away in order to survive. Prepare for frequent movement that may compel you to deviate from your rotation on occasion. Finally, studying Destruction Warlock may be a fun experience that lets you to truly dive into the complexities of playing this specific spec.
3. What is the stats priority for Destruction Warlocks?
Stats priority for Destruction Warlocks should be as follows: Intellect > Speed > Critical Strike > Mastery. This implies that as a Warlock, you should always prioritize items with Intellect first, then Haste, and then Critical Strike. Following that is Mastery, the least relevant stat for this archetype.
Although Swampert is vulnerable to grass-type attacks, it is still necessary to prioritize stacking the basic stats of Intellect, Haste, and Critical Strike above any supplementary alternatives like Versatility or Avoidance. Finally, it comes down to personal style and how you choose to play your Destruction Warlock in Shadowlands 9.2.7.
4. Which warlock spec is best for leveling in patch 9.2.7?
The Destruction Warlock is still a wonderful pick for the best Warlock Spec for leveling in patch 9.2.7. Destruction Warlocks can do substantial damage while absorbing a lot of punishment from ranged enemies thanks to skills like Cataclysm and Grimoire of Supremacy. The Scizor is their trademark pet, as it mitigates Fire-type attacks that would otherwise be devastating to Warlocks.
Furthermore, the Affliction Warlock has been improved with the addition of proficiency benefits from glyphs, enabling them to survive encounters more regularly and maintain a health advantage over other classes.
Finally, the Demonology Warlock is an excellent choice, since their tremendous single target DPS capabilities are considerably improved by employing Shadowflame with other skills like as Hand of Gul'Dan and Implosion.
5. What is the best race for Destruction Warlocks in Shadowlands?
The Gnome is the finest race for Destruction Warlocks in Shadowlands owing to its amazing racial ability Expansive Mind". This racial ability boosts your Intellect by 5%, resulting in increased damage, higher crit chances, and overall improved performance as a Destruction Warlock.
Aside from that, Gnomes have access to an extra damaging spell called Echoing Shock, which has a chance to deliver extra Arcane damage anytime a damaging spell is successfully performed. Furthermore, Gnomes are the only race that has access to a defensive cooldown in the event that things go wrong during confrontations Rocket Jump". This race enables you to leap away from danger and gain a few vital seconds of survival time.
6. Which covenant is best for Destruction Warlocks?
Choosing the finest Covenant for Destruction Warlocks in Shadowlands 9.2.7 is heavily influenced by your playstyle and what you want to gain from your Covenant selection. Kyrian is a good choice for stand-alone DPS since their Class ability gives a significant passive damage boost. Venthyr, on the other hand, might be a terrific choice if you need the added usefulness that it provides. With their trademark ability, Necrolords give amazing burst potential and a rotation-wide damage advantage, but Night Fae provide some excellent defensive tools and mobility choices that may be quite beneficial in certain scenarios.
Finally, the finest Destruction Warlock covenant will rely on how you want to play the spec and what sort of content you want to enjoy with Warcraft Shadowlands 9.2.7.
Final thoughts
This ends our Shadowlands 9.2.7 Comprehensive Destruction Warlock Guide. We strongly advise you to use this tutorial as a reference for your own construction, or just follow it as is. If you're already playing another class and want to convert to Destruction Warlock, we recommend giving the spec a try and becoming acquainted with the rotation before committing to your new primary character.
Destruction Warlock skills should be tuned to meet diverse settings, like as single-target engagements, multi-target encounters, or boss battles, while playing the class. Also, be aware of the best soul shards methods in order to optimize your damage output while also ensuring that you have enough pieces throughout longer battle situations. Finally, make good use of cooldowns and have Immolate active on all foes at all times.
Checkout this video: